Bangla Voice Clock, originally developed as a time announcing clock and posted in the Internet for download in the middle of 1998. But eventually it was enhanced to do some more work for its users. Now this clock can handle event scheduling, prayer time announcements, preset alarm playing etc.
To make it easy to download, it was originally posted as a zip archive without any automated setup utility. Users has to download, unpack and install it manually. That was to make the utility as small in size as possible. After the release of the version 2.0.0.1 beta, it is available as single setup archive. This archive was made with Inno Setup an installation creator of Jordan Russell. (Thanks to Jordan for such a nice tool).
This is a beta release. Even final release may contain bugs, so there is always possibilities of bugs. Please report any bug to ferdaus@smpSys.com. I expect suggestions and new ideas from you also. Please visit http://kferdaus.tripod.com for updates.
Please Note: It's a freeware and comes as it is without any warranty of any kind. Please do not blame me for any kind of mishaps. Though I have tried my best to make it perfect but it may contain some kind of bug which may annoy you. If you find any bugs please let me know.
Minimum Requirements
A PC with sound system
Windows 95/98, NT 4.0
Installations
It is very simple now just click on the downloaded BanglaVoiceClock.exe, specify the folder to install and that's all.
Features
Bangla Voice Clock has the features of time announcing in the selectable interval of 15, 30, 60 minutes. You can preset six alarms. You can schedule as many events as you like and specify when should you be reminded by it. You can record your own voice message to remind you at a specified events. You do not have to leave the program to record your voice message. You can set your voice message to be played as a preset alarm or you may set your favorite song as alarms. You can get your prayer time reminding also. If you are a Muslim, you can set all five Namaaz times. You need to create faazan.wav and aazan.wav waveform files. Faazan.wav for the first (Faj'r) prayer time announcement only. If you are a follower of other religion, you can still use the prayer time announcer for announcing prayer times for you by changing the files faazan.wav and aazan.wav waveform files.
Interfaces
| | |
| --- | --- |
| | Old Interface: |
Bangla Voice Clock is a task bar utility that means it will be iconized on the taskbar after been invoked.
This is what you will see when you click on the taskbar icon of Bangla Voice Clock. There are five menu options, viz.: clock, tools, Events, Minimize, and Exit. Clock, Tools, and Events are popup menus
Three radio buttons in Announcement Interval group is to set the announcement intervals. Two check boxes Aazan (Prayer Time) and Announce in English enables the task as their name indicates. Last group is alarm settings is to set the alarm time and the file to be played or to clear the alarm specified in the alarm# box.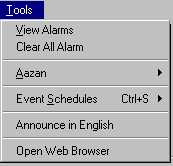 Tools menu has the options of View Alarms, Clear All Alarms, Aazan, Event Schedules, Announcement Language (defaulted to English) and Open Web Browser. The language selection bar text depends on the second language setting in the Sound Clip Definition file.

See a sample sound clip location definition file.

Event Schedules

will allow you to add new events to your schedule and view the events presently in the schedule.
Event Schedule Menu has two options, Add and View
Add will add new events to the database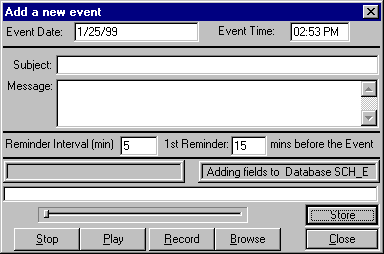 You may record & play/test you own voice made messages while in add a new event dialog box

View may show you the events and may allow you to delete events those are no more needed.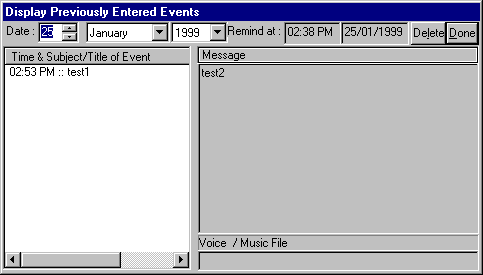 English is to toggle between announcing in English and Bangla.
View Alarms: Will show you all the alarms set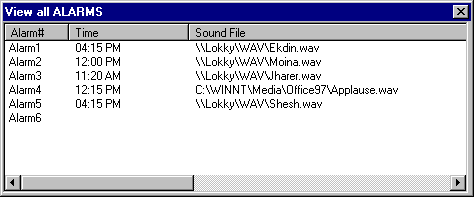 Clear All Alarms: Will clear all the alarms set previously at one shot.

Events

menu does the same task as the Event Schedules menu under Tools menu.


Aazan will open another popup menu that will allow you to view and set the Aazan / Prayer timings.
Enable Announcing, Set Aazan Timings, and View and Edit Timings are the options under Aazan menu. There is another option Timings by city info is disabled as I am still working on it. I was trying to incorporate Waleed A. Muhanna's Islamic Timer code to automatically calculate prayer time but unfortunately I could not make it work yet.
Open Web Browser will open a WWW browser interface window.


Clock menu has two options, Exit, Repair Database and About.
Exit is a self explantaory one.
Repair database: This option will try to repair corrupted database file for Event scheduler and Prayer time announcer.
About: Will display a screen with the version, name of the designer/developer , WWW site of the designer/developer and a small copyright notice.

Minimize

menu is to minimize the utility into taskbar icon. Exit menu is to, you know what it does.

Following is a snapshot that shows the popup dialog box that displays your event reminder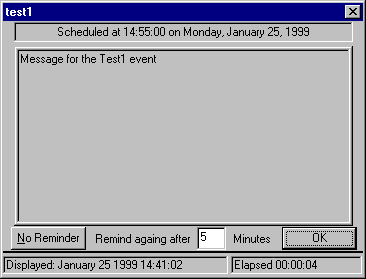 ---
NB: Some of the screen shots used here are from the old interface. As the action described has the same functionality those screen shots were not changed.
Page last edited: Monday, July 12, 2004 11:51 AM